There is Football in Heaven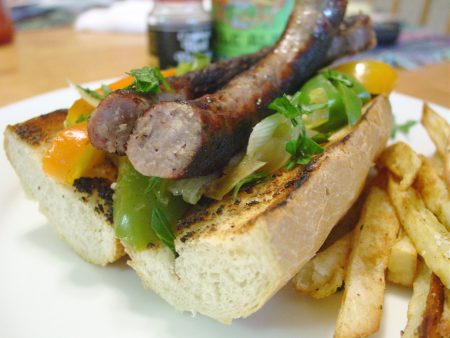 It's days like today that make Chris realize that he is the luckiest human male on the face of the Earth. After watching football all afternoon, we have sausage and pepper sandwiches for dinner. And not just any sausage sandwiches, but the best sausage and pepper sandwiches ever.
As Sundays go, this one was rather eventful.
After church, we attended our other Sunday obligation – the Baltimore farmer's market downtown. As has been the case of late, there are too many people in line for sausage and pit beef, so we have to pass that by. Sausage sounds good though, so we get a loaf of bread for tonight's sausage and peppers sandwich. We also get some bread for later in the week, several pastries for today, and lots of vegetables.
We dropped everything off at the house, then went over to Grammy's for a quick visit since we haven't seen them since last weekend. Boppy was playing golf, of course, but we have a nice time with Erin and Grammy.
We came back, had a small meal for lunch, and then Chris retired for football in the basement. The Ravens won with Jamal Lewis setting an NFL rushing record.
After an afternoon of football, we have dinner as a family. The sausage and peppers were absolutely fabulous – even our daughter liked them!