Turns 3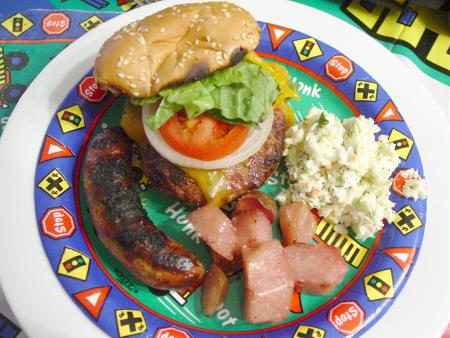 Our son turns three and we celebrate. His birthday dinner is celebrated by Erin, Sarah, Eric and Olivia and he could not have enjoyed himself more. Both kids enjoyed a little bit of everything in this very large meal. Not to worry, both were able to have more than one serving of cake and ice cream.
To keep the meal preparation relatively simple, we do a cookout. Burgers and Italian sausage (hot and sweet) for the carnivores and grilled portobello mushrooms for the vegetarians. The meat portion of the dinner was relatively straight forward. The portobello mushrooms we intended as an addition to our cookbook. Alas, their inclusion will have to wait for another day because they looked so good that they were eaten before we could get a picture!
The potatoes were our roasted potatoes, but the potatoes were cranberry potatoes (called so due to their red-purple color). The cole slaw is from Graul's Market (we add lots of celery seed). The corn pudding was meant to be served with the rest of the dinner, but the dish in which we baked it was too thick, necessitating a doubling of the cooking time!
The day started off a little sad. Our daughter is but 5 and had a little trouble accepting all the excitement over her little brother's birthday. This made her grumpy until breakfast at the Nautilus Diner. Pancakes rolled up with strawberry filling are more than able to brush aside a multitude of worries. Our son just liked stacking the jelly packets.
Our son is not a complicated boy. He likes cars. And trucks. And that's what he got. Lots of them, which he couldn't have been happier over. As happy as the toys made him (and our daughter and Eric), having family there to celebrate was the best part of the day.
Except for maybe cake and ice cream.