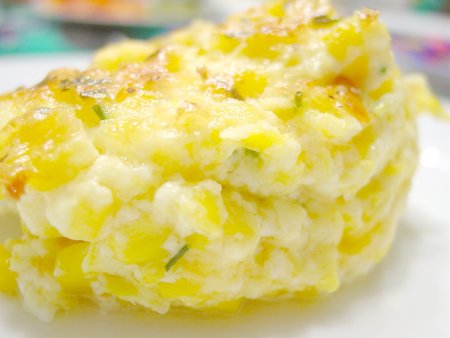 We are inspired by a recipe from Sara Moulton's shows to make a corn pudding. We combine defrosted frozen corn, some chives, a little cheese, and all the usual pudding ingredients to create a creamy moist and flavorful side dish. It takes much longer to cook than we anticipated, so we will have to try this again. It is worth the wait, though!
We start by preheating our oven to 350 degrees.
We empty one of the frozen bags of corn in a large bowl and defrost in the microwave. When the kernels are pretty much defrosted, we put this corn into the food processor and pulse until chopped coarsely.
We put the contents of the other bag of corn into the same large bowl and defrost it in the microwave. Then, we stir in the coarsely chopped corn, the sugar, and the salt.
The ½ stick of butter we put in a measuring cup and melt in the microwave. We set it aside to cool.
We take out an old 2 quart porcelain baking dish and butter it with some extra butter.
In another large bowl, we whisk together the milk, eggs, and chives to combine. We then whisk in the flour and stir in the cheese.
We combine the butter and the two bowls. Next, we pour the corn pudding into the baking dish. Using our microplane, we freshly grate a little nutmeg on top and place in the center of the oven.
We cook for 45 minutes. The pudding should have been almost done at this point, at least according to other pudding recipes we have seen. We raise the temperature to 375 degrees and continue to cook, checking occasionally. We want the pudding just set in the center. We do not know if it is our oven or the thick baking dish, but the pudding actually takes 90 minutes to cook in the oven!
We take the pudding out of the oven when set and nicely browned on top. We set aside to cool for a few minutes and serve.