What's for Dinner When There's No Water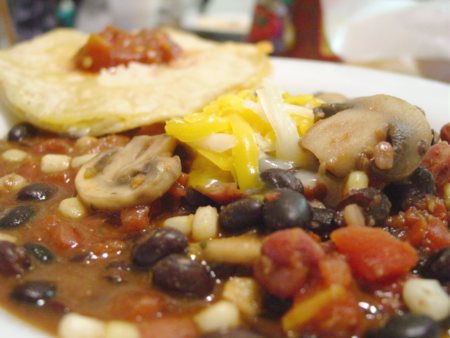 A rather large water main break forces us to scramble our meal plans. We gave serious consideration to going out, but bad weather and the extent of the water outage changed our minds. Instead we enjoy a simple bean chili.
The chili is similar to our
bacon and bean chili
only without bacon, making this a vegetarian meal. We use frozen
sofrito
and corn, canned tomatoes and beans, and pre-packaged sliced mushrooms. We replace the bacon with olive oil. We rinse the beans with leftover teapot water and serve with baked quesadillas, just cheese and corn tortillas, and do without fresh herbs since we can't wash them!
Hopefully the water will be back soon, but we're doing fine without it so far. It does help that Grammy and Boppy have water for the kids' bath.