Anticipating Thursday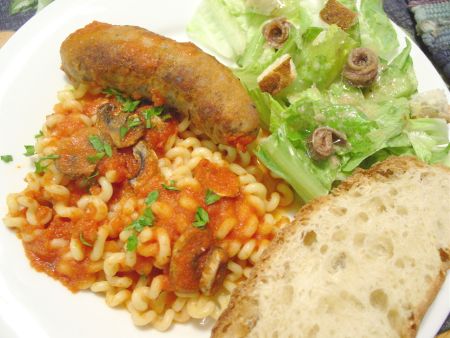 And so it begins. Our preparation for Thanksgiving begins, that is. We serve fusilli in a sausage tomato sauce with caesar salad and toasted Italian bread on the side. None of these will be part of our celebratory meal on Thursday, but they help to clear up space and share some common ingredients with some sides that will be included on Turkey Day.
On Thursday, we'll be serving
Stuffed Artichokes
, which is a traditional Italian side on Thanksgiving. We prepare the stuffing along with the sauce since both use fresh parsley and garlic. Both the pasta and caesar salad in tonight's meal are topped with grated Locatelli Romano cheese, which is also a part of the ingredient list for the artichokes. After dinner, we prepare the artichokes per the recipe and store them in the fridge. We'll re-heat them on Thursday just prior to serving.
We also use tonight as an opportunity to get started with the salad that we'll serve. The leftover bread that we can't eat tonight is perfect for croutons, which we also use for tonight's caesar salad. We seal the remaining croutons in a plastic bag.
Tomorrow, we'll be picking up the turkey…