First Snow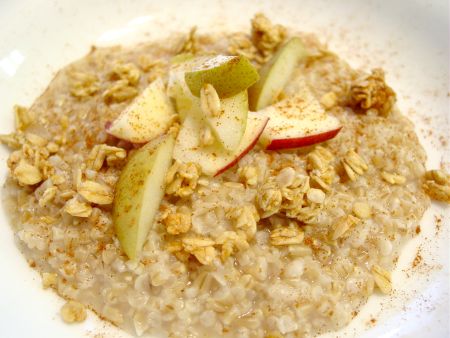 December 5th brings our first snow of the season. Instead of writing up a dinner, it seemed appropriate to do our breakfast – our wintry oatmeal. This is the same oatmeal that Robin and the kids share every morning. It's that good – and that easy!
Chris had planned on taking this Friday off from work because our daughter had no school today. We were going to go down to the children's museum in Baltimore, but decided that downtown Baltimore was not a place we wanted to be when it was snowing.
The big activity for today was picture taking. As we mentioned on Monday, we got our Christmas tree as early as we could so that we could take Christmas card pictures today. It's always difficult to get the kids to sit still, but we had hopes that it would go smoothly this year since our son is three now.
Maddeningly, it was not any easier. Our daughter was wonderful about the whole thing. Our son did his best, but his exuberance got the better of him. "Say cheese!" meant, in his mind, that he should bop up and down yelling, "Keys!" Of the hundred-odd pictures that we took, most were of our daughter looking positively angelic next to a blur that was her brother. The picture upon which we settled had our daughter posed with her feet swept to the side and a sweet smile on her face. Our son was in focus and smiling, but his smile was Frankenstein-like – upper lip drawn back behind his lower teeth. Ah well, there's always next year!
With a warm breakfast in our bellies and pictures behind us, we went out to play in the snow. Chris and the kids built a snow man. The snow was perfect for snow man building – just a little wet. Unfortunately, the snow proved a little too wet later in the day when the snow man fell to the ground. Oh well, they're predicting snow for tomorrow. We can have some more oatmeal and try again!