St. Nicholas Day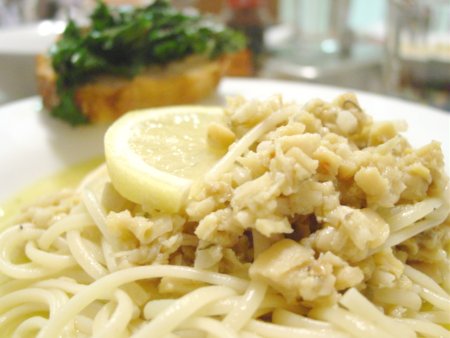 A tradition that we inherit from Chris's side of the family is St. Nicholas Day, otherwise known as "Elves's Day". The night before, the children dutifully placed their Christmas lists in their stockings. Sometime overnight, Santa's elves retrieve the lists and leave a small gift or two along with a little candy.
We came very close to going out for dinner tonight. We've been home all day long – not by choice. We spent the better portion of the afternoon digging out from the snow storm last night.
Happily we came to our senses and prepared this simple little meal. Linguine with clams is one of those meals that seems far more trouble than it is in reality. An added benefit in tonight's dinner, we enjoy some Caputo's bread, imported (via a care package from Nanny and Gramps) directly from Brooklyn. If you've never had Caputo's bread and are wondering how good it is, let's just say that our son ate it without asking for any butter on it. It's just that good.
Though the kids didn't eat any of the clams (just plain linguine with plain tomato sauce), they could not have asked for a more perfect elves day. They were both terribly excited at the result of the pre-Christmas visit. They got to play on snow mountains. They had a perfectly happy dinner completed nicely by a few Christmas Hershey's Kisses.