Cheese Quesadillas and Turkey Mole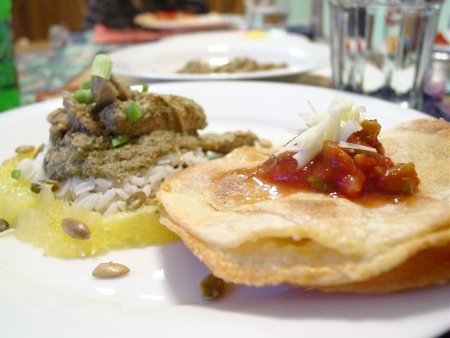 Truth be told, we
still
haven't finished Thanksgiving leftovers. Obviously we're not eating them out of the refrigerator anymore – we froze some of the turkey last weekend. And we're glad we did – a decidedly sick little girl puts us all in the mood for comfort food with minimal effort.
As Chris was readying for the day, he could hear coughing over our daughter's baby monitor (yeah, she's five, but we still use it – we're a might over-protective). She had complained that her ear was hurting yesterday. Children's Motrin before bed seemed to do the trick and she was able to sleep uninterrupted until around 5:30am.
Needless to say, she didn't make it to school, but rather paid a quick visit to the doctor. It wasn't an infection and, with the aid of periodic doses of the Motrin, she managed the remainder of the day uneventfully. Still, a sick little girl, a three year old boy and a pregnant mommy make for a more stressful afternoon than most.
Luckily, we had already planned on this meal. The mole is a one-potter and the quesadillas are a one cookie sheeter. Just what we needed!