Craving Waffles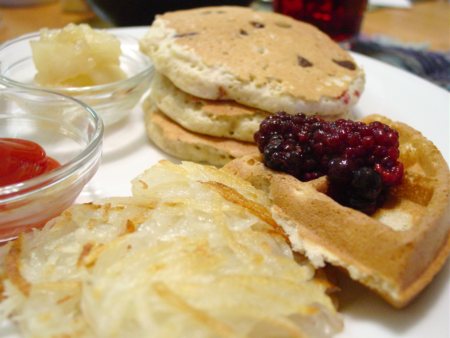 Robin had a craving for waffles last night. Since it's bad luck to ignore a pregnant woman's craving we have them for dinner tonight. And if we're having breakfast for dinner, we may as well go all the way…
Newly added to our cookbook tonight is our daughter's applesauce recipe. She recently returned home from school regaling us with tales of her prowess in the classroom kitchen making applesauce. She didn't bring home the recipe, but that wasn't a problem – she remembered the recipe. "All right, I've added apples, sugar, and water. Am I forgetting something?" "Cinnamon!"
The combination of the potato pancakes and the applesauce is similar to the Jewish dish, latkes, which is traditional during Hanukkah We don't use nearly as much oil as traditional latkes, but it was still nice to try the combination in this meal, especially during the holiday season.
Our son was taking a much needed nap this afternoon, so he wasn't able to help in the kitchen. It didn't matter. Our daughter was more than able to pick up the slack and our son heartily approved of the result – eating two waffles on his own.
It had been a busy and very cold day. We managed to make it to the farmer's market, did a little Christmas shopping, and visited Grammy and Boppy (saw Olivia, Eric, Sarah and Erin as well!). A day like that made a dinner like this that much more satisfying – especially when we're able to satisfy cravings as well.