Peppercorn Steak Before Shopping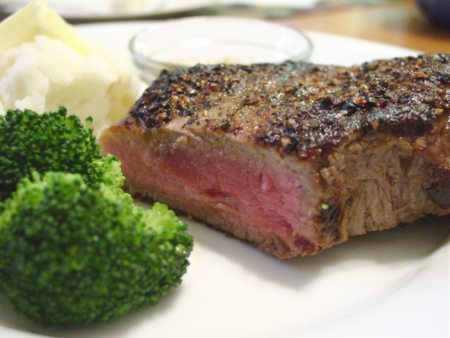 Christmas shopping was on our to-do list tonight, but it's not our highest priority. How could it be when there's dinner to be eaten. Especially, when it's a dinner with a centerpiece like peppercorn steak. Fabulous!
Chris arrived home from work to the sound of loud banging. With images of the kids running amok and Robin in tears, he entered the kitchen to find the kids taking turns crushing peppercorns in a plastic bag with the flat side of a meat tenderizer.
After helping mom with the peppercorns, the kids also helped with the mixer when it was time to make the mashed potatoes. They even ate most of the dinner (and our daughter with only a little prodding!).
After a quick gourmet meal, we drive to the mall to continue our Christmas shopping, which was largely successful. We still need a few more things, but we're closer to done than starting.
Thankfully, we had a fabulous meal to give us fortitude to deal with other holiday shoppers.