A Visit to Santa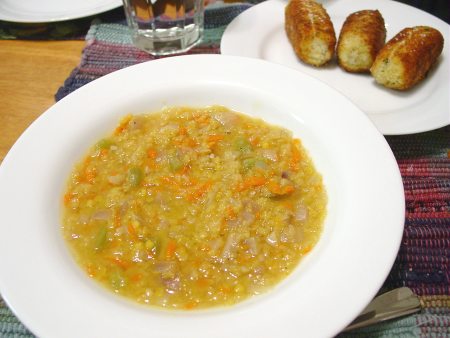 There was much Christmas themed activity today. We started with a brunch and a visit with Santa at the club to which Grammy and Boppy belong. That was immediately followed by a Christmas ballet recital. A brief rest was followed by dinner – a nice little ginger lentil soup and some potato croquettes.
The trip to see Santa has been a tradition since we moved back to the area four years ago. This is the first year that both kids enjoyed the experience. It was not even necessary for Chris to prove it safe to sit on Santa's lap this year (and yes, we do have pictures of that).
Our daughter had a ballet recital later in the day. We were all planning on going, but our son was sick, so Robin took her. She was the best one in her whole class, naturally.
Robin had a hankering for lentil soup. To obtain Chris's approval for the dish (he's no fan of lentils), she promised leftover pizza. Turns out there was no pizza. Chris would like to think this an honest mistake.
Happily, potato croquettes (prepared from Wednesday's mashed potatoes) more than made up for the lack of pizza. This was not the most Christmas-y meal, but it was a wintry meal. And a darn fine one at that.