Eggnog French Toast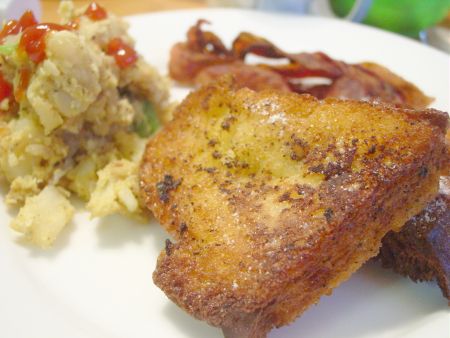 Christmas is still fresh in our minds. With the help of leftovers, it is also fresh in our tummies.
In addition to evoking fond memories (of 4 days past), this was a very satisfying meal. We cleared out the fridge a little, which always makes us happy. The french toast was fantastic—also making us happy. But mostly it was comfort food when we needed it.
We drove Nanny and Gramps back to Brooklyn on Sunday. We made the trip from Baltimore to Brooklyn in exactly three hours despite holiday traffic (let alone the usual turnpike traffic). We (mostly Chris) were quite pleased with ourselves until we realized that the baby had a fever. We were in Brooklyn with a 10 month old baby with a fever. And it was snowing.
The drive back did not go nearly so well—it took us 6 hours. As if that was not bad enough, it snowed.
The baby is doing better today. And, thanks to this dinner, we are all feeling almost normal.