"Quicker" Home Fries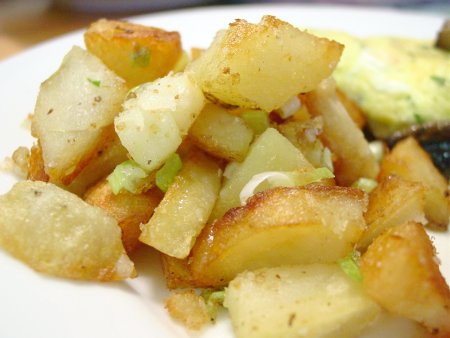 We love home fries for any meal. Whenever we are fortunate to have leftover baked potatoes, these are a cinch to whip up. We started this recipe last night by microwaving the potatoes until they were cooked. When we were ready, the cold baking potatoes are perfect for home fries. The cubes cook up crispy on the outside and moist and tender on the inside. We simply add salt and pepper and some sliced scallions for an easy side dish.
Ingredients
2

medium

baking, russet

potatoes

2

tablespoons

olive

oil

2

medium

scallions

salt & pepper
We start off last night by pricking the potatoes with a fork and microwaving them wrapped in paper towels until tender. We set them aside to cool for a few minutes and then wrap in foil and refrigerate overnight.
We heat a large pan over medium heat while we dice the potato. We cut each potato in half and peel it easily with our knife. We chop it into ½ inch cubes as best we can. We put the oil in the pan and add the potatoes in one layer. We do not stir for 3 minutes. Then, we check one, and continue to cook the potatoes undisturbed on the same side until they are a nice brown. We turn the potatoes over with a spatula and continue to cook, stirring more occasionally, until they are browned on most sides. We sprinkle them generously with salt and pepper.
Meanwhile, we slice the scallions. We add these to the cooked home fries and stir.
We serve the home fries with additional salt and pepper.