Ode to the Farmers' Market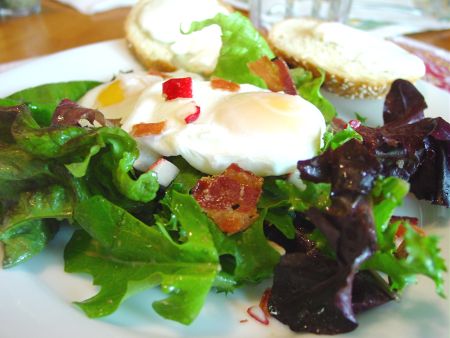 Happily, the farmers' market is back. The winter hiatus seems to last longer every year. This despite what seems to be an earlier start date each year. To celebrate the return, we make a Farmers' Market inspired dinner.
Most of the regular vendors were at the farmers' market. Sometimes early or late in the year, many of the vendors are absent, but we were pleasantly surprised at the vendor turnout. The only group that we really missed were the sausage people.
Our daughter played lacrosse in the afternoon. We have no idea who won because our son was enjoying the nearby playground.
Dinner was a real struggle. We were a bit tired and did not have much in the house, so the temptation was to eat out. In the end, we just did not want the kids to have fried chicken and french fries for supper.
Finally, Robin came up with the idea for the poached eggs salad. The adults very much enjoyed it, while the kids ate their eggs scrambled. Besides, it seemed only fitting to observe the first day of the farmers' market with ingredients obtained there.
After dinner, we head to Cold Stone for the new caramel latte ice cream. Our timing was perfect—shortly after we ordered, the line was out the door. While we were there, Robin ordered her own Mother's day cake.
We arrived home to find Mr. Barry outside with the dog. We played with him for a bit, then Miss Barbara came home so we played with her as well. It was a perfectly pleasant way to end a very pleasant spring day.