Bread is Better When It's Breadcrumbs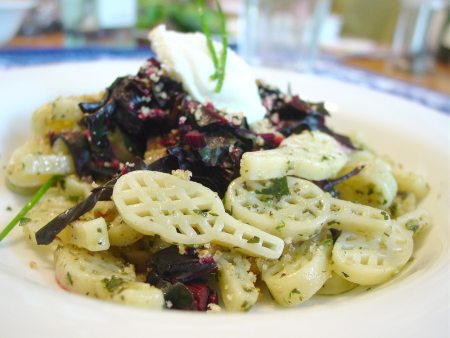 "Oh, I like breadcrumbs. They are
much
better than bread!" Our daughter certainly appreciates at least one aspect of dinner tonight. Actually, all three kids very much enjoy the entire meal (as do the adults). Seems that we can not go wrong with pasta.
The primary inspiration for this meal is the same behind most of our meals—a fanatical desire to use foodstuff before it spoils. This desire often inspires new recipes. Such is the case tonight.
Instead of a blue cheese that might be a more natural fit for tonight's pasta course, we use ricotta. The addition of several fresh herbs to the same pasta dish is owing to an over-abundance in our garden. "Waste not, want not" can certainly be tasty!
Another interesting item lying about in our pantry is rachette pasta, which looks like little tennis rackets. The tennis rackets just make the meal that more fun for the little ones—they're kids, they get a kick out of things like weird pasta shapes.
The baby woke up at 3 a.m. and cried for an hour. If she weren't so darn cute… ah who are we kidding? She is cute and is the baby, so she can get away with just about anything. Even so, we are tired, which makes this meal that much more comforting.