Garlic Breadcrumbs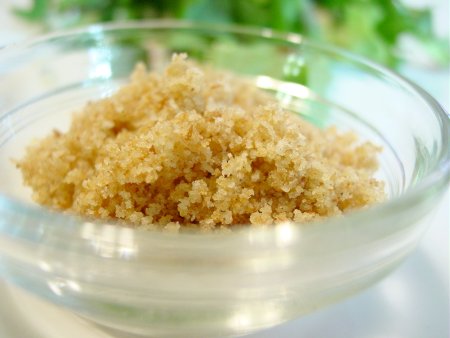 These garlic-infused bread crumbs are a quick topping for a cheesy or vegetable pasta dish. We press the garlic into extra-virgin olive oil, giving the bread crumbs a distinctive garlic taste. A smashed clove of garlic (which would be removed after a time) would provide a more subtle flavor. The garlic and oil are heated in the microwave for simplicity (a small pot would also be fine) and then combined with plain bread crumbs.
Ingredients
In a bowl, we combine the olive oil with the garlic clove, which is pressed through the garlic press. We heat in the microwave for 20-30 seconds. We want the garlic to become fragrant and the oil to heat. The bread crumbs are stirred in and seasoned with salt and pepper. We want the crumbs lightly coated with the garlic oil, so we add crumbs, as needed, to get the "right" consistency.
Leftover crumbs are covered with plastic and refrigerated.