The Brown and the Pink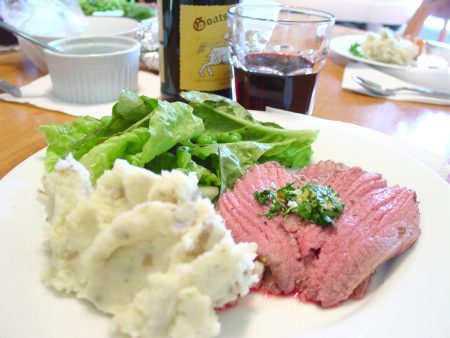 "I like the brown and pink"-our son assessing tonight's roast beef. Both he and his older sister loved the roast beef, eating quite a bit of it. Naturally, we were quite pleased even though it meant that there were not nearly as many leftovers as we had expected.
To add insult to injury, our daughter ate most of the sweet potato that Robin was hoping to enjoy. If only we had such problems with all of our meals.
Afterwards, we stopped by Grammy's house to repay a weekend trip to Sam's Club by installing fluorescent lights that were insisting on not going in right. Grammy and Bobby just happened to have cookies that the kids were only too happy to take off their hands.
The lemon squares were not exactly part of the dinner menu—they are ostensibly for our daughter's knitting club at school, but we sample a couple tonight for quality assurance purposes. We are just that committed to excellence in our kids' schools.