Mafalde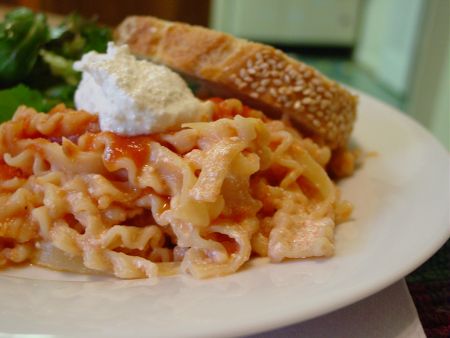 This is a Tripoli classic. Mafalde is like a skinny version of lasagne noodles. We serve it like Robin's grandmother – with sauce and ricotta (pronounced ri-
GOT
-a). Some fresh bread and salad provide the finishing touches to this family favorite.
Ingredients
We don't seem to be able to find mafalde around here, in fact we didn't find anything close in our regular haunts. The mafaldine – a thinner version of mafalde – is imported directly from Brooklyn (in a care package from Robin's grandparents).
In our dutch oven, we re-heat the tomato sauce from last night. When it comes to a boil, we lower it to a simmer, adjust the salt and pepper, and add some red pepper flakes.
In a large pot, we bring enough water to a boil for a pound of pasta and add some salt. We cook the mafaldine for 8 minutes and drain it in the colander. In a large serving bowl, we mix the pasta with some sauce and add 1 cup of the ricotta cheese.
We serve this pasta meal with additional tomato sauce, ricotta cheese, and some Locatelli.
Search
G
o
o
g
l
e
for other
Mafalde
recipes