Stuffed Artichoke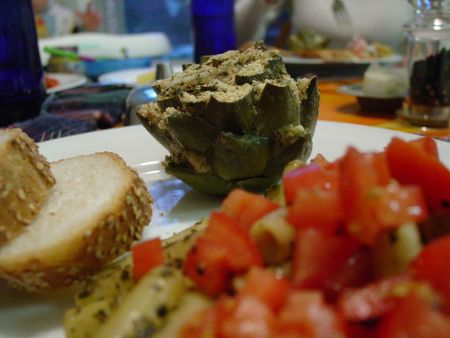 Stuffed artichokes are an experience unto themselves. They make for a nice meal to chat over – the bites aren't too big and it takes time to pick off each leaf. Stuffing the artichokes provides a nice transition from the breaded outer leaves to the succulent heart.
Ingredients
6

baby

artichokes

2

cups

italian seasoned

bread crumbs

2

cloves

garlic

1

tablespoon

parsley

2

tablespoons

Pecorino romano

cheese

(Locatelli)

to taste

salt & pepper

3

cups

water

1

lemon

2

bay leaves

olive oil
In a bowl, we submerge the artichokes in water to remove any dirt. We prepare the artichokes by cutting off the stem so that it will sit flat. We also cut off about an inch of the top.
We rinse the bowl, add more water, a little lemon juice to acidulate the water and soak the artichokes while we prepare the remaining ingredients.
In a medium sized bowl, we mix the bread crumbs, garlic, parsley, romano cheese, salt and pepper. We then spoon the bread crumb mixture in between the artichoke leaves, spreading the leaves to get the mixture into the artichoke.
In our dutch oven, we add an inch or two of water (about three cups in our 5 quart dutch oven). We add the bay leaves and squeeze a lemon into the water and bring the water to a boil. We put the artichokes into the water. We drizzle a little olive oil over the artichokes and simmer for about 30 minutes.
After about 20 minutes of simmering, we add the six stems, peeled and trimmed, to be served as a side.