Caesar Salad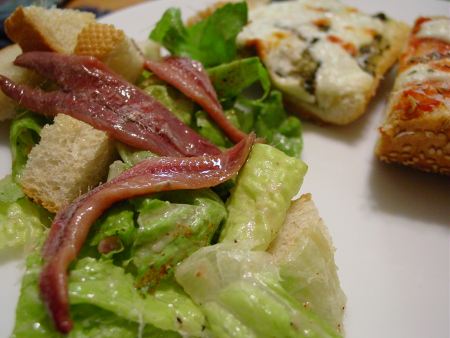 This is a classic caesar salad recipe. We substitute mayonnaise for the raw egg yolk to avoid potential problems with salmonella.
Ingredients
2

cloves

garlic

3

fillets

anchovies

1

tablespoon

lemon juice

1

teaspoon

Worcestershire sauce

1

teaspoon

Dijon

mustard

1

tablespoon

mayonnaise

1

cup

extra-virgin

olive oil

to taste

salt & pepper

1

cup

pecorino romano

cheese

(Locatelli)

1

cup

croutons

6

ounces

romaine

lettuce
We place the garlic, anchovies, and salt in mortar. We mash into a paste. In a small bowl, we whisk the paste, lemon juice, Worcestershire sauce, mustard, and mayonnaise with a fork. We slowly add the olive oil and stir until the dressing is well mixed.
We toss the romaine lettuce and some of the dressing (reserving the remainder for a future salad). We top with the croutons, romano cheese and salt and pepper.