Chicken Burritos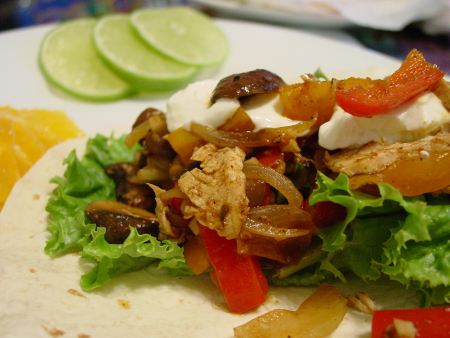 Burritos are a great dish for just about anyone. The main mixture (here chicken and vegetables) can be complimented with salsa, sour cream, limes, oranges – all sorts of things. This recipe makes use of ingredients that needed to be used up at the time, so burritos also serve as nice way to use up a number of items that you might have left in the fridge from earlier meals.
Ingredients
1

tablespoon

olive

oil

1

onion

1

clove

garlic

1

red

pepper

1

orange

pepper

3

ounces

cremini

mushrooms

1

tablespoon

chili powder

to taste

salt & pepper

2

tablespoons

chicken

stock

1

boneless, skinless breast

chicken

4

flour

tortillas

lettuce,lime slices, sour cream, salsa
We heat the olive oil in a large pan. We add the onions and saute until they are translucent. Next we add the peppers, cooking for a few more minutes. We add the mushrooms, sauteeing until tender. Finally, we add the garlic and chili powder and cook for a minute. We add a little chicken stock and the chicken, heating for a couple of minutes to warm up the the chicken strips.
We cover a plate with a paper towel and put the tortillas on top. We cover the tortillas with another paper towel and cook in the microwave for a minute.
We serve the chicken mixture over the warm tortillas with the lettuce, sour cream, salsa and a squeeze of lime.