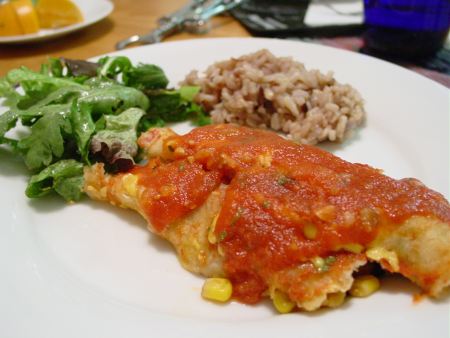 Enchiladas are great because they can be vegetarian, but they've got a rich interior texture surrounded by a crispy shell. Since they're baked, you can add cheese and many other toppings to make a very unique meal – even when starting from the same recipe.
We pre-heat the oven to 375 degrees.
We heat 1/2 tablespoon olive oil in 2 large frying pans. We divide the chopped onion in half, and saute in each pan for a few minutes until translucent. To one pan, we add the chili powder, cumin, and half of the minced garlic. After a minute or so when the spices and garlic are fragrant, we add the frozen corn and black beans. We then add the reserved tomato liquid and let simmer on low heat.
To the other pan, when the onions are translucent, we add the rest of the garlic. In a blender, we puree the diced tomatoes, the whole peeled tomatoes, and the chipotles. We taste for heat, adding more chipotles if necessary. We add this tomato-chipotle mixture to the pan with the onion and garlic and "fry" the sauce for a few minutes. When thickened, we add the cilantro and set aside.
In the microwave, we steam the corn tortillas on a plate between two pieces of dampened paper towels. We microwave them for a minute at full power. In a 9×13 baking dish, we put some of the sauce. We take a corn tortilla, put 2-3 tablespoons of the bean mixture, some cheese, roll it up and place in the baking dish seam-side down. When all tortillas are in the baking dish, we spoon some sauce over and top with the reserved cheese. We have some remaining bean mixture, so we just spoon it into the baking dish and the leftover sauce we reserve to serve with the enchiladas. We cover the casserole with aluminum foil and put it in the oven for about 20 minutes.
We serve with the remaining chipotle sauce, salsa, lime wedges, and sour cream.