Sauteed Chicken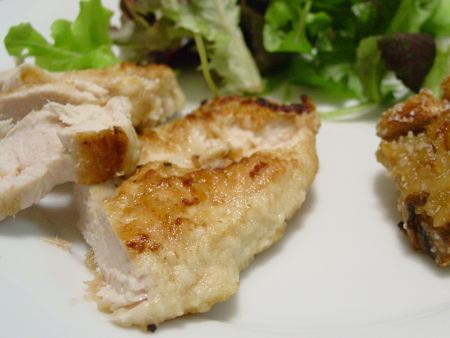 This is about as easy a recipe for chicken as you'll find.
Ingredients
We pre-heat the oven to 350 degrees.
We rinse the two pieces of chicken breasts and put them between two pieces of wax paper. We cannot find our meat pounder, so we use the bottom of a heavy pan and pound the chicken to an even thickness. We wash our hands well and prepare the flour mixture.
We put about a cup of flour in a bowl with some salt and pepper. We heat a saute pan with the olive oil and when hot, we use tongs to flour each chicken breast and place in pan. We cook on medium heat for a few minutes, turn with clean tongs, and when browned on the other side we remove the chicken breasts to a baking dish. We put the lemon juice and butter into the pan and using a wooden spoon scrape up the brown bits and pour over the chicken. We finish cooking in the oven for about 5 minutes until the chicken is cooked all the way through.
We let the chicken rest on the serving plate for a few minutes and then slice!