Home Fries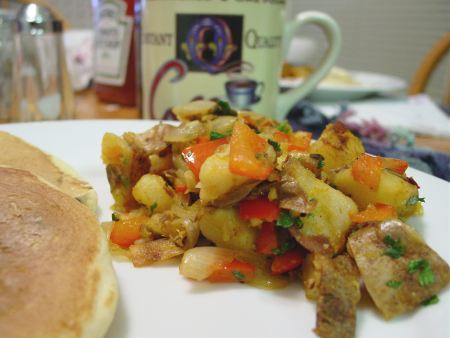 No breakfast (or breakfast dinner) is complete without a side of home fries. Preparation is especially easy if you have some pre-cooked potatoes around. If not, it's not all that hard to boil them (as long as they're not idaho potatoes, which have to be cooked ahead of time), it just takes a little longer to prepare.
Ingredients
We begin by sauteeing the onions in a little oil in our dutch oven. We cook for about 5 minutes on medium-low heat, add some salt, and then add the red pepper. After a few more minutes, we add the mushrooms and cook until all the vegetables are tender. We add the garlic, salt, pepper, and paprika and set aside in a medium bowl while we cook the potatoes.
We usually fry the potatoes in small batches in 350 degree oil. We didn't want to bother here, so we sautee the potatoes in a small amount of oil until browned. We toss the browned potatoes with the sauteed vegetables and parsley. We re-season and serve!