Crab Eggs Benedict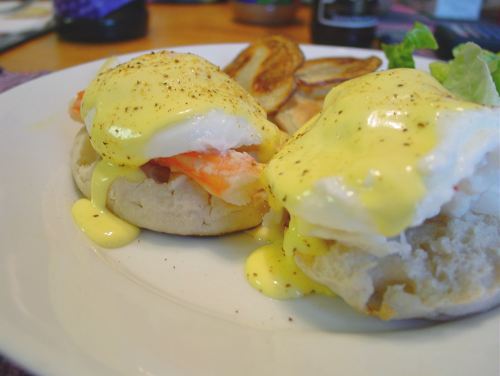 If you're going to have something as rich as eggs benedict, you might as well add some crab. This is about as rich a recipe as we make, but it's oh-so-good.
Ingredients
2

english muffins

1

about 3/4 of a pound

king crab leg

4

large

very fresh

eggs

Hollandaise sauce

Old Bay Seasoning
We begin by heating a pan with about 2 inches of water. When the water comes to a boil, we lower it to a simmer. We crack an egg into a bowl and then using the handle of a wooden spoon, we create a whirlpool and gently slide the egg in. We want the white of the egg to wrap around the yolk. We continue with the other eggs. We poach in gently simmering water for 3-5 minutes. We want the whites set and the yolks runny.
Meanwhile, we toast the english muffins. When the eggs are done, we take them out with a slotted spoon and put them on a paper towel lined plate. Sprinkle with salt and pepper if you desire, although we do not.
We put some crab meat on top of each half of the english muffins. We top with a poached egg, 1-2 tablespoons of hollandaise sauce, and a sprinkle of old bay and serve.