Squash Ravioli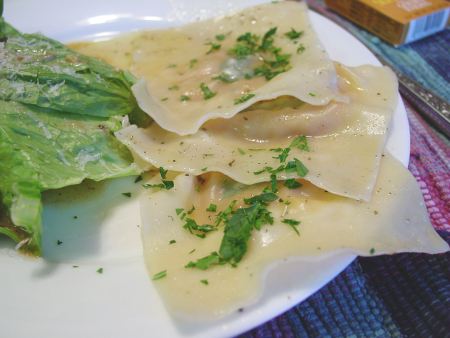 Ravioli do not just have to be filled with ricotta! We used butternut squash as filler in this recipe and wonton skins as wrappers. The wonton wrappers are something of a cheat instead of actually making the fresh pasta, but it's a "nice" cheat. The wonton wrappers and butternut squash make an interesting and quite tasty combination.
Ingredients
We start by heating the olive oil in a pan. We saute the onions on medium-low for about 5 minutes until translucent. We add the squash puree, salt, pepper, and 1/2 cup of the chicken stock. This was probably too much to add, so we cook the mixture down until it is thick. We remove the pan from the heat, add the nutmeg and romano cheese, and stir well. We put the mixture into a shallow bowl, and refrigerate for a few minutes to cool off.
Next, we heat a large pot of water. We then begin to make the "ravioli". We remove 2 wonton skins at a time from their package, keeping the opened package covered with a damp paper towel. We have a bowl of water nearby, and we work on a cutting board. We put 1-2 teaspoons of squash mixture in the center of a wonton skin, add a small garnish of parsley on top, and with our fingers, moisten the four edges of the wonton wrapper. We position the other wrapper on top, and seal shut, removing as much air as possible and trying to keep the puree in the center. We continue with another ravioli, putting the already finished ones on a plate.
The water is boiling when we are finished with the 12 ravioli. We salt the water and add half the ravioli. The water is boiling furiously, so we lower it. We cook the ravioli until they float and are tender, about 3 minutes. We remove them from the pot with a chinese strainer, and put them on a plate. We put the rest of the ravioli in, and begin heating the butter in a pan. When the butter is brown, we add the sage and the rest of the chicken stock. It would have been preferable to use fresh sage but our sage froze over so we use the dried. Next time we will use more butter as well, but we were trying to keep this healthy. We season the sauce with the salt and pepper and add the already cooked ravioli to reheat quickly. We take these out with tongs and serve sprinkled with parsley and more cheese. The rest of the ravioli are then put into the rest of the sauce and the pan is shut off (for seconds!).