Meatballs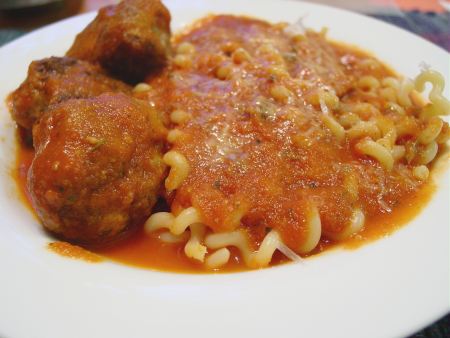 These meatballs are just about perfect – juicy with a little bit of spice. The perfect topper to pasta with sauce.
Ingredients
1

onion

4

tablespoons

divided

olive oil

2

cloves

garlic

salt & pepper

1

tablespoon

italian flat-leaf

parsley

1

pound

ground sirloin

beef

1

cup

dried seasoned, plus more for coating

breadcrumbs

1

cup

Pecorino romano

cheese

(Locatelli)

2

large

eggs

1

cup

whole

milk

the sauce recipe from the

tomato sauce
In our saute pan we heat 1 tablespoon of olive oil. We cook the onions on medium-low heat for about 5 minutes until translucent and golden. We add the garlic and some salt and saute for another minute. We spread this mixture onto a plate and quick-chill it in the fridge.
When the mixture has cooled, we mix it with the meat, parsley, breadcrumbs, cheese, eggs, milk, and some more salt and pepper. The best way to mix it is with our hands, although it is a bit messy. With moistened hands we form the meatballs into 1.5 inch balls. We rub these 17 meatballs in some breadcrumbs to coat the outside. This helps to keep the very moist meatballs from sticking when they are pan-fried.
We heat 1.5 tablespoons olive oil in a clean saute pan on medium heat. We begin by frying 9 of the meatballs. We put them gently in the pan and cook them on one side for about 3 minutes, and then rotate them. We brown all sides, about 8 minutes total. We drain these on paper towels, while we fry the rest in the remaining olive oil. We place the almost-cooked meatballs in the tomato sauce and simmer gently for at least 15 minutes.