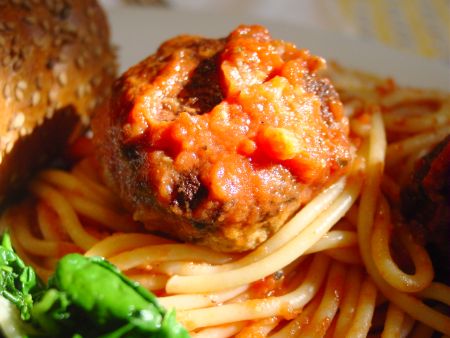 We vary our
traditional meatball recipe
hoping to save some time and effort without losing any of the flavor. To this end, we skip the initial step of sautéing the vegetables and the subsequent wait for the mixture to cool. We use our quick chopper and garlic press and add the raw onion and garlic to the meat mixture. Then we just roll them into balls, sauté, remove, start a
quick tomato sauce
, and then add the meatballs back to the same pot. The meatballs are very moist and flavorful and we shave a few minutes off the preparation and cooking times!
We dump our ground sirloin into a large bowl. We wash our hands well and then, on our cutting board, we cut the ends off the onion and cut it in half. We discard the peel and cut the onion in half again. We just want the pieces small enough to fit in the chopper attachment of our immersion blender.
We pulse the onion in the chopper until it is finely ground. We dump the watery mixture onto the beef and then press in one garlic clove. We remove and discard the garlic peel from the garlic press and then add the remaining garlic clove. We also add a good pinch of coarse salt and some freshly ground black pepper to the meat.
Next, we add the dried basil, oregano, fresh parsley, breadcrumbs, cheese, eggs (lightly beaten in a ramekin with a fork), and milk to the bowl. We get two dinner plates set on the counter for the formed meatballs. We run out of breadcrumbs so we do not use any additional breadcrumbs in the mixture or as a coating as in our traditional recipe. We proceed on.
Though a bit messy, the best way to mix everything is with our hands. We put on clean disposable gloves and form a meatball into a 1½ inch ball. We place the meatball on the clean plate, and continue with the rest of the meat. We form 15 meatballs in all.
After discarding the gloves and washing up our prep area, we heat 1½ tablespoons of olive oil in our Dutch oven on medium heat.
We begin by frying 8 of the meatballs. We put them gently in the pan and cook them on one side for about 2 minutes, and then rotate them. We brown all sides, about 6 minutes total. We drain these on a clean paper towel lined plate, while we fry the rest in the remaining olive oil.
When all of the meatballs are cooked (although not all the way through yet), we wipe out the Dutch oven using tongs and paper towels. We proceed to cook a quick tomato sauce.
Since we serve the sauce with meatballs over pasta, we also start heating a pot of water at this point.
When the sauce is bubbling, we place the almost-cooked meatballs in the tomato sauce and simmer gently for at least 15 minutes (enough time to get the pasta cooked).
We serve the meatballs with extra sauce on the side. In a sandwich or over pasta, they are yummy!