Mashed Potatoes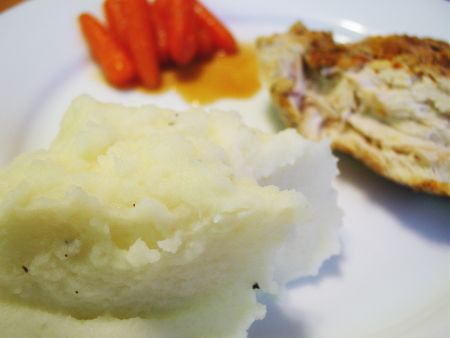 Mashed potatoes: the perfect side. We always make more of these creamy potatoes than is called for so that we can look forward to having them again as potato croquettes.
Ingredients
2

pounds

Idaho

potatoes

1

cup

2%

milk

3

tablespoons

butter

to taste

salt & pepper
We start by scrubbing the 3 large potatoes and peeling them. We cut them in half and put them in a pot of cold water. We bring it to a boil, add some salt, and simmer partially covered for about 25 minutes. We want the potatoes to be fork-tender.
We drain them in a colander and put them back into the dry pot for a few minutes over the turned off burner. While they are still hot, we rice them into a big bowl. We cover with plastic wrap for a few minutes until we are almost ready to eat. We microwave the potatoes for a minute to be sure they are nice and hot. Then we microwave the milk for a minute. We add the heated milk, stirring with a spatula, and then the butter. We stir and add salt and pepper to taste until the butter is melted and the potatoes taste delicious!