Broccoli-Mushroom Pie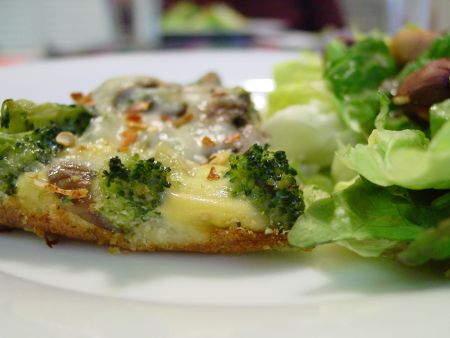 This dish is similar to a classic quiche. It doesn't have the same crust – it uses bread crumbs instead. It also doesn't have any cream like most quiches do. This can be the main course or a side.
Ingredients
We begin by heating the oil in a large saute pan. We add the mushrooms and cook over medium-low heat for a few minutes until they are browned and have released their liquid. We then add the broccoli and water and cover the pan. We lower the heat a little, and cook, stirring occasionally, for about 4 minutes. We want the broccoli to be tender and bright green. We remove the lid, add the garlic, some salt and pepper, and boil away any liquid in the pan for a couple more minutes. We transfer this mixture to a large bowl to cool for about a half hour.
Meanwhile, we pre-heat the oven to 375 degrees. We prepare our 9-inch glass pie pan with the bread crumb crust. We smear the butter on the bottom and sides of the pan and then sprinkle on the bread crumbs. We pick up the pie pan and tilt it around so that the bread crumbs are on the sides and bottom of the pan.
In a small bowl, we whisk the eggs with a little salt and pepper and stir in the milk. We add this mixture to the already cooled off broccoli-mushroom mixture.
We spoon half of the pie mixture into the pie pan coated with the bread crumbs. We sprinkle on a little more than half of the cheese. Then we add the rest of the pie mixture and top this with the remaining cheese. We put the pie pan in the middle of our pre-heated oven and bake for 30 minutes.
When the pie is removed from the oven, it looks and smells wonderful. We wait for 15 minutes for the pie to settle and cool off a bit before we slice it into wedges. We serve the pie sprinkled with red pepper flakes.