Creamy Oatmeal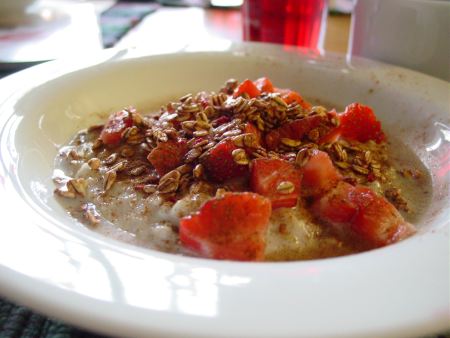 Robin started eating this oatmeal for breakfast when she was pregnant with our first child. This recipe is adapted from "What to Eat When You're Expecting" by Arlene Eisenberg, Sandee E. Hathaway, Heidi E. Murkoff. It contains dry milk powder which adds calcium and makes it so delicious and creamy. Today she adds strawberries, but the oatmeal is wonderful with any berry, or some chopped apples, pears, or peaches.
Ingredients
1

cup

oats

(Quaker Old-Fashioned)

3

cups

water

1

cup

instant nonfat

dry milk powder

(Carnation)

strawberries

cinnamon

low fat with raspberries

granola

(Chappaqua Crunch)

skim milk
In a small pot we combine the oats and water. We bring to a boil over medium heat, and then lower the heat. We gently simmer the oatmeal for a few minutes until thickened. We take the pan off the heat, stir in the dry milk powder and pour it into a bowl. We top with fruit, cinnamon, granola, and skim milk to taste.