Home Fries Frittata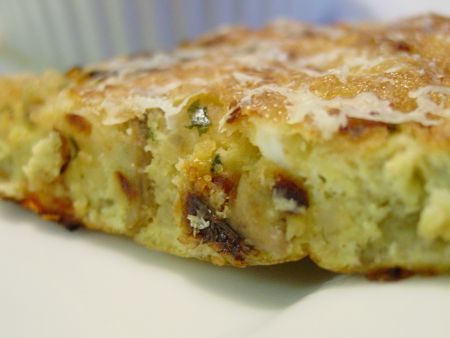 Everyone knows you can't have breakfast without eggs. This frittata has the added benefit of adding some potatoes to an already tasty dish.
Ingredients
1

teaspoon

vegetable

oil

1

cup

leftover

home fries

5

large

eggs

to taste

salt & pepper

2

teaspoons

Pecorino romano

cheese

(Locatelli)
We pre-heat the oven to 350 degrees.
We heat up our 10 inch non-stick pan (a pan that is oven-safe) with the olive oil over medium heat. We add the already cooked but cold home fries and cook stirring occasionally until heated through.
Meanwhile, we beat the eggs, salt, and pepper in a medium bowl with a fork. When the home fries are ready, we pour the egg mixture into the pan and lower the heat to medium-low. We cover the pan with aluminum foil and cook, shaking the pan occasionally, until the top is starting to set and the bottom is brown. This takes about 10 minutes. We then place the pan in the oven and cook for another 5-10 minutes. We want the frittata to be cooked through.
We carefully take the pan out of the oven with a pot-holder and slide the frittata onto a cutting board. We flip it over back into the pan. We want to brown the other side of the frittata so we place the pan on the stove again and heat on medium heat until browned. We sprinkle the cheese on top and slide onto a serving plate. We cut into wedges and enjoy.