Pasta with Mushroom Gruyere Sauce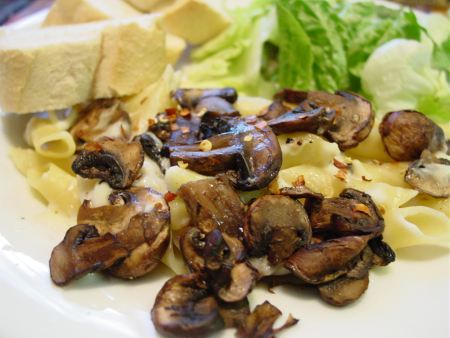 This pasta dish is a more sophisticated macaroni and cheese. The cheese is drizzled on the pasta, not baked with it, which cuts down on the cooking time. The sauteed mushrooms add some depth of flavor to make this a nice main course.
Ingredients
3

pound

mostaccioli

pasta

2

tablespoons

salted

butter

1

cup

all-purpose

flour

2

cups

2%

milk

4

ounces

cremini

mushrooms

1

teaspoon

olive oil

salt & pepper

dash

nutmeg

1

cup

gruyere

cheese

1

tablespoon

Pecorino romano

cheese

(Locatelli)

for garnish

red pepper flakes
We start by putting a large pot of water on the stove and heat for the pasta. In a medium pot, we melt the butter over low heat. We add the flour and cook for four minutes, stirring often. This butter-flour mixture is known as a roux.
We heat the milk in the microwave on full power for a minute and a half. We whisk the heated milk into the roux slowly and increase to medium heat, stirring often until it comes to a boil.
Meanwhile, we heat the olive oil in a pan over medium heat and add the mushrooms. We saute until tender and the mushrooms have released their liquid. We add salt and pepper and keep on low heat until we are ready to serve.
When the pasta water comes to a boil, we add some salt, and the pasta, and cook until al dente.
Back to the milk pot, which we have been stirring often. When the mixture comes to a boil, we boil this on low heat for a few minutes. We add a little salt and pepper and a dash of nutmeg. We then remove it from the heat and add the gruyere and Locatelli.
When the pasta is done, we drain it in a colander. We combine the pasta and cheese sauce in the empty pot we used to boil the water. We stir to coat and spoon out two helpings for tonight's meal. We top each serving with half the mushrooms and some red pepper flakes. The rest of the pasta we spoon into a 9×13 inch pan, cover with foil, and refrigerate for a baked macaroni and cheese tomorrow.