Gruyere Macaroni and Cheese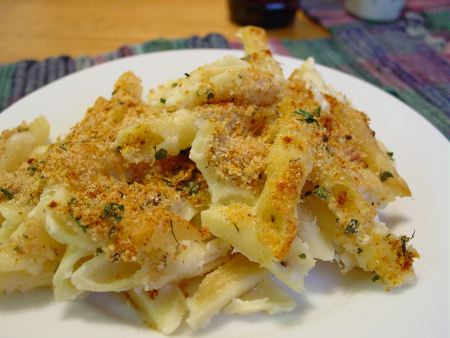 This is really the second of a two part recipe. The pasta and cheese sauce were from a previous dish, which made the preparation of this recipe relatively easy. All we have to do is add is the crumb topping, bake, and we enjoy some great comfort food.
Ingredients
1

9 X 13 inch pan

gruyere pasta

1

cup

plain

bread crumbs

2

tablespoons

Pecorino romano

cheese

(Locatelli)

3

tablespoons

gruyere

cheese

1

tablespoon

italian-leaf

parsley

pepper

1

cup

2%

milk

paprika
We begin by making the topping for the baked pasta. We combine in a bowl the crumbs, Locatelli, gruyere, parsley, and some freshly ground pepper.
We pre-heat the oven to 375 degrees. We take the pasta dish out of the fridge from last night. We uncover it, pour in the milk around the dish, and sprinkle on the bread topping. We sprinkle on some paprika, and cover with foil again.
When the oven is ready, we put the 9 × 13 inch pan in the middle of the oven. We bake for 20 minutes, remove the cover, and continue to bake for about 40 minutes. We want the topping browned and crunchy.