Leftover Pot Roast and Cheesy Grits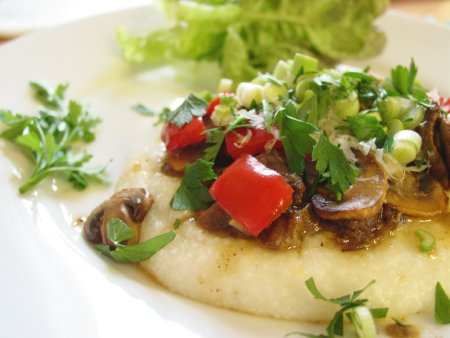 We combine two great comfort foods in this recipe. The pot roast was frozen in a vacuum-sealed bag to prevent freezer burn. As any self-respecting southerner knows, true grits require 20 minutes to cook. We cheat with instant grits here, but promise to try the real thing soon.
Ingredients
2

cups

leftover

pot roast

1

teaspoon

olive oil

1

cup

red

bell pepper

3

ounces

white button

mushrooms

1

cup

red

bell pepper

salt & pepper

3

cups

water

3

cup

quick

grits

(Quaker)

3

cup

Asiago

cheese

2

tablespoons

fresh italian-leaf

parsley

4

light parts only

scallions
We start by heating a pan with the olive oil over medium heat. We add the red pepper and saute for about 5 minutes. Then we add the mushrooms and cook for another 5 minutes. We want the vegetables to be tender and the mushrooms to have released their liquid. We season with salt and pepper and keep on low heat.
Meanwhile, we bring a pot with the water to a boil. We slowly stir in the grits and a little salt and reduce the heat to low. We cover the pot and cook for about 10 minutes, stirring occasionally.
At the same time that we are cooking the vegetables and the grits, we reheat the leftover cooked pot roast in the microwave until hot.
When the grits are thick and tender, we stir in about 1/2 cup of the Asiago cheese. We serve the grits with the pot roast, vegetables, the rest of the Asiago cheese, scallions and parsley on top.