Linguine with White Clam Sauce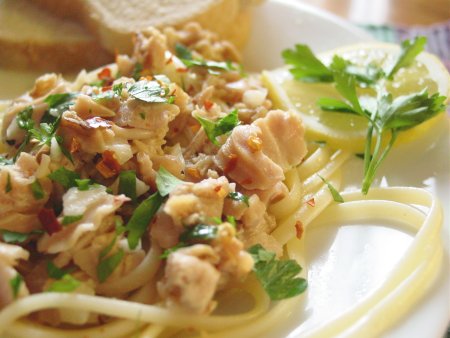 This is an easy, quick meal using mostly pantry ingredients. It is a Tripoli family recipe passed on from "Nanny".
Ingredients
1

pound

linguine

pasta

2

tablespoons

olive oil

3

cloves

garlic

1

cup

bottled

clam juice

(Doxsee)

13

ounces

canned, chopped

clams

1

medium

lemon

sprinkle

red pepper flakes

salt & pepper

2

tablespoons

fresh italian-leaf

parsley
We start by heating a large pot of water for the pasta. In a medium pot, we add the olive oil and garlic and place over medium-low heat. When the garlic is fragrant and golden, we add the bottled clam juice, juice from the 2 cans of clams, lemon zest, and red pepper flakes. We raise the heat to medium and bring to a boil. Then we lower the heat and simmer gently while we cook the pasta.
Meanwhile, when the pot of water comes to a boil, we add the linguine and some salt and stir. We cook according to the package directions.
When the pasta is almost done, we add half the parsley to the clam sauce. Next we add the chopped clams and the juice from the half of lemon. We taste for salt and pepper and add some freshly ground black pepper. We drain the pasta in our colander and top each portion with the clam sauce. We sprinkle on some additional parsley and red pepper flakes.