Asparagus Omelet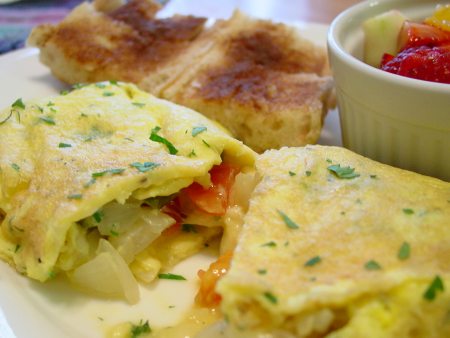 Omelets can be somewhat daunting at first, but aren't all that hard once you have a little experience. We like to try new combinations in omelets, which makes the omelet experience so much fun. This recipe combines roasted asparagus and asiago cheese – yum!
Ingredients
1

cup

onions

1

teaspoon

olive oil

3

spears

leftover

asparagus

1

cup

tomatoes

salt & pepper

1

cup

Asiago

cheese

1

tablespoon

chopped

parsley

6

large

divided

eggs

2

tablespoons

divided

water

2

teaspoons

divided

butter
We start by cooking our onions. We heat our non-stick pan with the olive oil and then add the onions. We cook over low heat for about 15 minutes covered. We want the onions softened and tender, but not brown.
Meanwhile, we get all our ingredients for the omelets ready. In two bowls we divide the chopped asparagus, tomatoes, and cheese. When the onions are done, we divide these also into the two bowls.
In another bowl, we whisk 3 eggs, 1 tablespoon of water, 1 teaspoon of parsley, and some salt and pepper. We heat the non-stick pan with a teaspoon of butter over medium heat. When the butter is melted and has foamed, we pour in our beaten eggs. Using a rubber spatula, we push the cooked egg toward the center of the pan until the eggs start to set. When the eggs are almost set, we add the ingredients from one of the asparagus bowls down the center of the pan. We fold the omelet in half, wait a minute, and then slide the omelet to the edge of the pan, and turn the omelet out onto a warmed serving plate. We repeat this for the second omelet and serve both sprinkled with the remaining parsley.