Ricotta Cheese and Arugula Omelet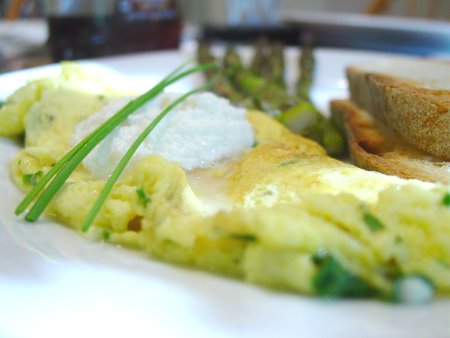 Farm fresh eggs, baby arugula on special, herbs growing in our garden and leftover ricotta come together in a delicious omelet. The creaminess of the ricotta cheese, the sharpness of the arugula, and the refreshing herbs complement each other nicely.
Ingredients
We start by combining 2 eggs, ½ tablespoon of the ricotta, ½ tablespoon of the herbs, and a little salt and freshly ground pepper, in a big bowl. We whisk well.
We heat half of the olive oil in our non-stick pan over medium heat. At the same time, we cook half of the arugula on a dinner plate in the microwave covered with plastic wrap for 30 seconds. When the arugula is wilted, we squeeze it (carefully—it is hot!) with paper towels to remove excess liquid.
When the oil is hot, we pour in our beaten egg mixture. Using a rubber spatula, we push the cooked egg toward the center of the pan until the eggs start to set. When the eggs are almost set, we add the cooked arugula, 1½ tablespoons of the remaining ricotta, and a teaspoon of Locatelli. We fold the omelet in half, pull the pan off the heat, and wait about 30 seconds for the omelet to finish setting up. Then we slide the omelet to the edge of the pan, and turn the omelet out onto a warmed serving plate. We repeat this for the second omelet and serve both sprinkled with extra ricotta and chives.