Stuffed Artichokes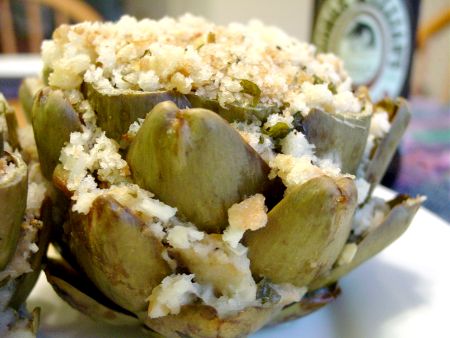 Stuffed artichokes are a family favorite, a favorite we inherited from Robin's family. Besides being quite tasty, artichokes make for a very relaxed dining experience. In this recipe, we replace the usual store-bought dried bread crumbs with fresh.
Ingredients
We start by making our fresh bread crumbs. We slice the slightly stale bread and put in the food processor. We turn it on and let it go until the crumbs are small. We pour a cup of the crumbs into a large bowl and store the remaining in an airtight container in the freezer for future use. In another bowl, we submerge the artichokes in water to remove any dirt. We let soak while we mix the bread crumbs with the garlic, parsley, romano cheese, and salt and pepper.
We remove the artichokes from the water and drain. We then prepare them by cutting off the stem so that it will sit flat. We also cut off about an inch of the top. We could also trim each leaf with scissors to be more elegant, but we do not bother here. We rub the artichokes with lemon to keep them from turning brown. We do not bother to try and remove the inner "hairy part" which is very fibrous. We will remove it with a spoon as we eat them.
We then spoon the bread crumb mixture in between the artichoke leaves, spreading the leaves to get the mixture into the artichoke.
In our dutch oven, we add an inch or two of water (about three cups in our 5 quart dutch oven). We add the bay leaves and squeeze the lemon half into the water and bring the water to a boil. We put the artichokes into the water. We drizzle the olive oil over the artichokes and simmer on low for about an hour.
When the artichokes are tender when pierced on the bottom with a knife, we remove them from the water. We serve hot.