Sausage and Pepper Sandwich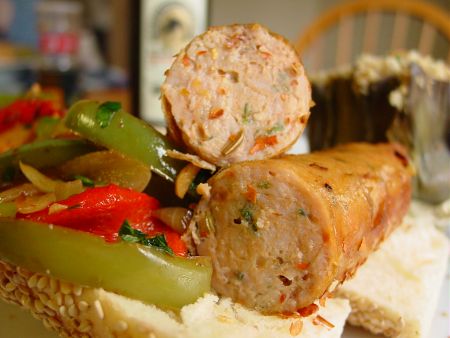 The classic combination of sausage and peppers is given a slight spin in this recipe with the use of chicken sausage. The chicken sausage makes this dish a little healthier than regular pork sausage (well, not that much healthier).
Ingredients
We heat the oil in a large pan over medium heat. We add the 4 sausage links and cook, turning frequently. We want them golden brown all over, which takes about 10 minutes.
Meanwhile, we rinse the green pepper, seed it, and slice into 1 or 2 inch lengths. When the sausages are brown, we add the onions and stir up the browned bits on the bottom of the pan. After a couple of minutes, we add the sliced peppers and garlic. We stir these in for a minute and then add the salt and pepper. We cook for another 5-10 minutes until the vegetables are tender and the sausages are cooked through.
We remove the cooked sausages to a clean plate and add the jarred yellow and red bell peppers to the pan. We stir to heat through and toss with the parsley. We spoon the vegetables over the sausages and serve in a sandwich with the loaf of bread and some dried red pepper flakes.