Sausage Pizza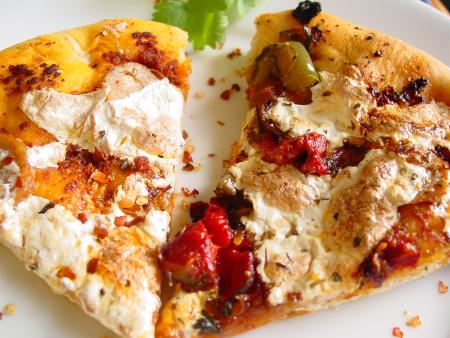 Sun-dried tomatoes and chicken sausage combine for a wonderful slice of pizza.
Ingredients
1

tablespoon

cornmeal

kosher salt

1

cup

sun-dried tomato

pesto

(Trader Joe's)

chicken,

sausage and peppers

4

ounces

fresh

mozzarella

1

tablespoon

Pecorino romano

cheese

(Locatelli)

dried

oregano

dried

red pepper flakes
As soon as the pizza dough is set aside to rise, we start to pre-heat the oven to 450 degrees with the pizza stone on the bottom shelf of the oven.
When the dough is doubled in size, we remove the dough from the bowl and punch it down. We separate the dough into two balls. Each ball is spread into a flat circle on our pizza peel that is covered with half the cornmeal and a sprinkling of salt. Prior to putting the toppings on the dough, we give the peel a good shake to make sure that the dough will slide off when we put it into the oven.
We spread half the tomato pesto on the crust. Next we layer on the sausage and peppers, mozzarella and Locatelli. We sprinkle on the dried oregano and slide the pizza into the oven on to the stone. We continue with the second pizza on the pizza peel.
The pizzas are cooked for about 15-20 minutes (until the cheese is bubbling and the bottom of the crust is browned). We remove the pizza with tongs to a clean cutting board and serve the pizza sprinkled with hot pepper flakes.