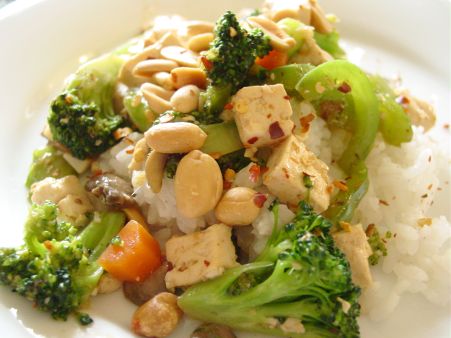 There are many wonderful ingredients in this dish providing flavor, texture and nutrition. The preparation is a little more than is typical for us, but it's well worth it, especially considering how healthy it is. We serve it over white rice.
We begin by pre-heating the oven to 350 degrees.
We make the sauce for the stir fry by mixing the soy sauce, sesame oil, sherry, water, sugar, and red pepper flakes. We have all the ingredients for the stir fry ready in different bowls. The garlic and ginger together, the tofu, the broccoli and carrots together, the green pepper and mushrooms together.
We spread the peanuts on a cookie sheet and place in the oven for about 5 minutes. We want them fragrant. We heat a large pot over high heat, add half the oil, and, when hot, quickly add the garlic and ginger. We stir fry for 30 seconds, add the tofu, and stir for a couple of minutes. We add a little of the sauce mixture to the tofu, stir, and remove to a clean bowl.
We heat the remaining oil in the pot and add the broccoli and carrots. We stir for a minute, add a couple of tablespoons of water, and keep stirring until the broccoli is bright green. We add the green pepper and mushrooms next and stir fry for another couple of minutes. Next we add the sauce and the cooked tofu mixture. We mix the cornstarch with 2 tablespoons of water in a small bowl, add this to the pot, and stir for another minute.
We serve with the toasted peanuts on top.