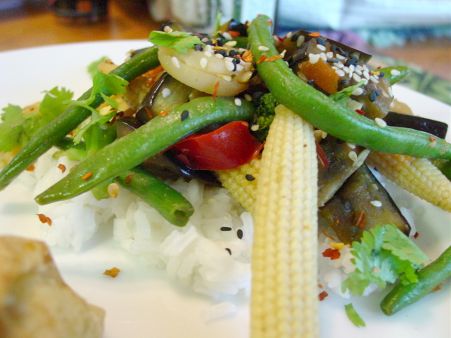 We combine a fresh small eggplant with frozen and canned veggies to create an easy, tasty, vegetarian main course. There are baby corn pieces in the frozen vegetable mix (Trader Joe's brand, we do not use the sauce packet here), but our children love baby corn so we also add some canned baby corn. We serve the stir fry over white rice, but this would also be delicious on noodles or on its own as a side to an asian meal.
We begin by pre-heating the oven to 375 degrees.
We make the sauce for the stir fry by mixing the soy sauce, sesame oil, sherry, water, sugar, red pepper flakes, and grated ginger.
We spread the two kinds of sesame seeds on a parchment-covered cookie sheet (we store all our opened nuts and seeds in the freezer) and place them in the oven for just a couple of minutes. We want them fragrant. We remove them to a bowl.
Next, we prep all the ingredients for the stir fry in different bowls. We rinse and pat dry the eggplant and chop it into 1/2 inch pieces. We have about 2 cups of cubed eggplant. Then, we mince our peeled shallot, yielding 3 tablespoons. Finally, we mince our garlic.
We heat a large pot over medium-high heat, add the oil, and, when hot, quickly add the eggplant. We stir fry for a few minutes, add the shallots, and stir for another minute. Next, we add the garlic, stir, and add the frozen vegetables (we could have defrosted these in the microwave, but we do not bother here). When the frozen vegetables are warm and the eggplant is tender, we add the sauce and lower the heat to low. We add the canned baby corn and heat through.
We serve with the toasted sesame seeds, more red pepper flakes, and cilantro on top.