Smoked Salmon Egg Sandwich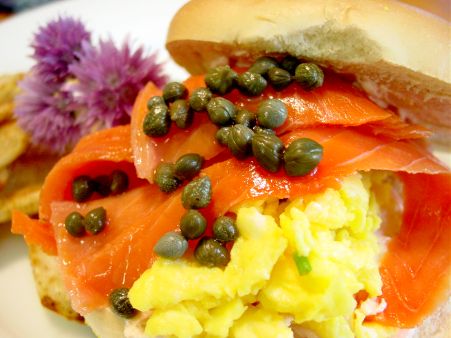 This is a quick dinner/breakfast item. We use ingredients we have in our fridge and pantry and some fresh chives we have growing in our garden. Our chives have bloomed and we decorate our plates tonight with the edible chives blossoms!
Ingredients
4

large

eggs

1

tablespoon

low-fat

milk

salt & pepper

1

teaspoon

olive oil

2

bagels

3

tablespoons

smoked salmon

cream cheese

(Panera)

3

thin

chives

3

ounces

smoked, sliced

salmon

1

teaspoon

capers
We begin by cracking our eggs into a large bowl. We add the milk and some salt and pepper. We start heating our non-stick pan over medium heat with the olive oil (normally we would use butter but we actually ran out!). When it is hot enough, we whisk the eggs well and add them to the pan. We lower the heat to medium-low. We gently push the eggs around the pan with a wooden spoon occasionally over the next 5-10 minutes. We want the eggs tender, creamy, and well-cooked.
We toast our split bagels in our toaster oven. When done, we spread the cream cheese over the 4 halves.
We snip the chives into the cooked eggs and place the scrambled eggs on the bottom halves of the bagels. We top with the pre-packaged, already sliced, smoked salmon. We top each portion with some capers and enjoy as a sandwich.