Oven Cooked French Fries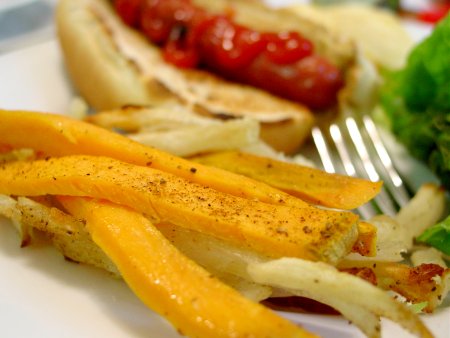 This is a healthier version of french fries. We use a combination of sweet and baking potatoes and very little oil to produce a tasty side.
Ingredients
vegetable cooking spray

1

medium

sweet

potato

1

medium

russet baking

potato

1½

teaspoons

olive

oil

salt & pepper

Old Bay seasoning
We begin by pre-heating the oven to 425 degrees. Then we line a cookie sheet with aluminum foil and spray with vegetable cooking spray. We peel the sweet potato with our peeler and, using our japanese mandoline, we cut the potato lengthwise into 1/4 inch pieces. Next we cut each piece into fries. We put the sweet potato fries into a large bowl and toss with 1/2 teaspoon of olive oil. We spread the potatoes out on 1/2 of the foil-lined cookie sheet.
We continue with the baking potato. We peel it and using our mandoline again we cut the potato into thin fries. This time we decided to use the julienne attachment for our mandoline. We put these fries into the bowl and toss with the rest of the olive oil. We spread the potatoes out on the rest of the cookie sheet.
We sprinkle the fries with salt, pepper, and Old Bay seasoning. We put the fries in the oven and bake for 25 minutes.
The sweet potato fries are now done and we remove these to a bowl. We spread the rest of the fries on the entire cookie sheet and bake for another 15 minutes or so – until tender and browned. In the last few minutes we return the sweet potato fries to the oven to rewarm.