Scrambled Eggs with Spinach and Bacon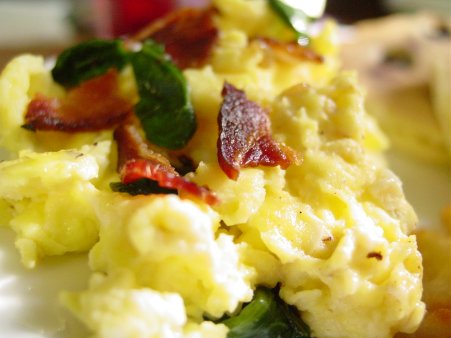 "You can't serve breakfast without eggs" – this bit of wisdom is courtesy of Chris's late grandfather who would almost refuse breakfast without eggs. We were inspired to pair scrambled eggs with cream cheese from Sara Moulton's Cooking Live show. We vary it here by adding some leftovers.
Ingredients
We begin by heating our non-stick pan over low heat with the butter. We crack the eggs into a large bowl. We place the cream cheese on a small plate and microwave it for 1 minute on 10% power. We want the cold cream cheese softened. We add the softened cream cheese and some salt and pepper to the eggs and whisk.
When the butter has melted, we add the egg-cream cheese mixture. We raise the heat a bit, but not too much as we want it to cook slowly. We cook, stirring occasionally, for about 10 minutes until the eggs are just cooked through.
We heat the cold leftover spinach and bacon in the microwave for a minute until hot and mix the spinach in with the eggs. We serve the eggs garnished with the bacon.