Creamy Scrambled Eggs with Leeks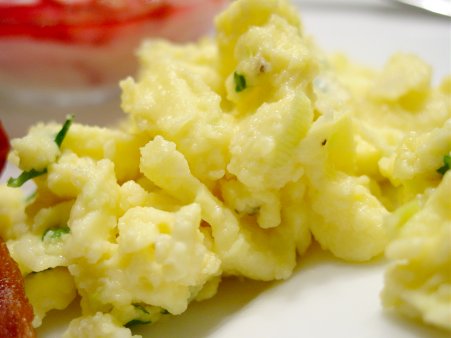 We love scrambled eggs cooked with cream cheese, they are creamy and moist. We add leeks for a wonderful depth of flavor.
Ingredients
2

small

leeks

1

tablespoon

butter

6

large

eggs

3

ounces

light

cream cheese

(Neufchatel)

salt & pepper

1

tablespoon

italian flat leaf

parsley
We begin by cleaning the leeks. We rinse them and then cut just above the roots and then just below the green tops. We discard the roots and the green tops (we could save the green tops for stock). We want just the light parts tonight. We chop them into small pieces by cutting the leeks almost all the way lengthwise into eighths and then crosswise into a small dice. We have about a third of a cup of leeks, which we put into a large bowl and cover with water so that the chopped leeks float to the top of the bowl and any sand sinks to the bottom. We lift the chopped leeks out to a paper-towel lined plate and pat dry.
Next we begin heating our non-stick pan over medium-low heat with the butter. When the butter has melted, we add the cleaned leeks and cook, stirring with a heat-safe rubber spatula, for about 10 minutes until softened.
Meanwhile, we crack the eggs into a large bowl. We place the cream cheese on a small plate and microwave it for 1 minute on 20% power. We want the cold cream cheese softened. We give it another minute at 10% power and then we add the softened cream cheese and some salt and pepper to the eggs and whisk.
When the leeks are softened and lightly colored, we add the egg-cream cheese mixture. We lower the heat a bit, as we want the eggs to cook slowly. We cook, stirring occasionally, for about 10 minutes until the eggs are just cooked through.
We serve the eggs garnished with the parsley.