Grilled Lobster with Herb Butter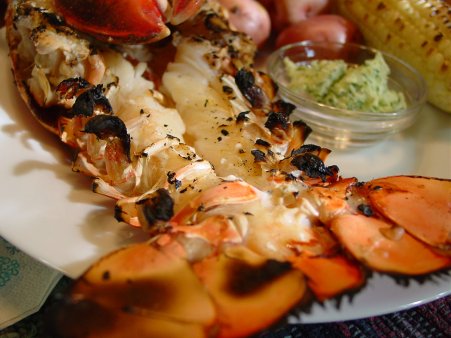 A word of warning before you read any further –
this recipe is not for the squeamish
! Typical preparation of lobster involves dropping the lobster into boiling water, placing the lid on top and hoping that the lobster doesn't suffer much. The chef is much more active in dispatching the lobster in this recipe, but it is arguably much more humane as the process is significantly faster.
We first heard of grilling lobster from the Food Network – specifically Bobby Flay. This is our first direct experience with grilled lobster and it is wonderful! The typically delicious lobster flavor is there. Grilling it adds depth of flavor, and, more importantly, gives the chef the opportunity to combine this dish with other grilled items that wouldn't otherwise seem right alongside lobster.
Ingredients
We start by making the herb butter. We put the stick of butter into our food processor. We cut some tarragon and lemon thyme out of our herb garden and get some fresh italian parsley out of the fridge. We rinse and dry the herbs and de-stem. We chop coarsely and add to the food processor. We pulse the processor until the herbs are mixed into the butter. We spoon into a ramekin and place on the dinner table.
We turn on our grill.
We put one of the live lobsters onto a cutting board, hard shell up, and, using our chef's knife, we quickly cut the head in half between the eyes (we warned you that this recipe was not for the squeamish). We then turn the lobster hard shell down and split the lobster meat in half, leaving the hard shell intact. We remove the claws and legs, which requires some cutting as we twist from the body. We crack these slightly by hitting them with moderate force with the back of our knife. We rinse the shells under cold water.
We place all of these pieces onto a large plate and drizzle a little olive oil over the exposed flesh of the lobster body.
We then repeat the process with the second lobster.
We place the lobster claws and legs on the grill for a few minutes per side. When we put the lobster bodies onto the grill, we place them flesh side down and do not turn them. We grill these for about 6 minutes for the smaller lobster and 10 minutes for the larger one.
We serve the grilled lobster with the herb butter and some lobster crackers and forks.