Baked Tortilla Chips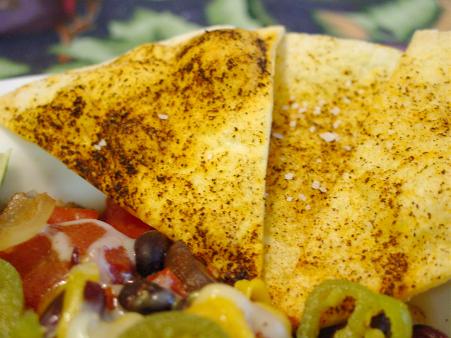 These can be made with either corn or flour tortillas and are a healthy alternative to fried chips. We first saw a recipe for this in our "Betty Crocker's New Low-Fat, Low-Cholesterol Cookbook", although we have changed the recipe according to our tastes.
Ingredients
5

8-inch

flour

tortillas

1

tablespoon

canola

oil

ancho

chile powder

cumin

kosher

salt
We begin by pre-heating the oven to 400 degrees. We spread the tortillas out on our clean counter and brush them (using our pastry brush) on one side with the canola oil. We sprinkle some chile powder and cumin onto each one, using our brush to get a nice coating. We cut each tortilla in half with scissors and then each half into 4 wedges. We place the chips on 2 ungreased cookie sheets, sprinkle with salt, and bake in the oven for about 10 minutes. We want the bottoms golden and the chips starting to get crispy.
We remove the chips to 2 large dinner plates to cool. As they cool, they will get crispier. Any chips we do not eat with our dinner we store in a resealable plastic bag.