Breaded Eggplant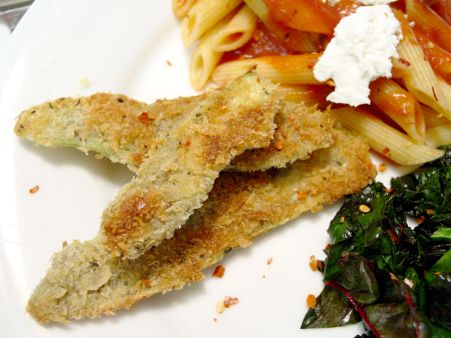 We love breaded fried eggplant. We replace the italian seasoned bread crumbs Robin's family uses, with japanese-style Panko crumbs for extra crunch. These are delicious as a side or first course or even in a sandwich.
Ingredients
5

small

thin italian

eggplant

¼

cup

Shake & Blend

flour

(Pillsbury)

salt & pepper

1

large

egg

1

teaspoon

water

1

clove

garlic

1

cup

japanese Panko

bread crumbs

¼

teaspoon

dried

basil

¼

teaspoon

dried

oregano

2

tablespoons

Pecorino romano

cheese

(Locatelli)

¼

cup

extra virgin olive

oil
For larger eggplant we usually slice the eggplant into rounds but these are thin long eggplants. We start by rinsing the eggplants and cutting off both ends on each one. We peel them and then slice them lenghthwise into slices 1/4 to 1/2 inch in depth. The pieces are between 2 and 3 inches long and we wind up with 18 slices of eggplant.
Next, we use "standard breading procedure" to coat. We get three bowls ready for the breading. In one bowl we put the flour and some salt and pepper. In another bowl we mix the egg with the water and add the garlic clove. In a third bowl we mix the bread crumbs with the basil, oregano, salt, pepper, and Locatelli.
We gently pat each eggplant slice with flour, dip in the egg wash, and then coat with bread crumbs. We place the breaded slices on a wax-paper lined dinner plate as we continue with the rest of the eggplant. We have barely enough egg so if we would have had a little more eggplant we would need 2 eggs.
We pre-heat the oven to 375 degrees. In a non-stick pan, we heat 1.5 tablespoons of olive oil. When hot, we add a third of the slices and pan-fry on medium heat, for a minute or so. We turn the slices over with tongs when they are nicely browned, and cook for another minute or two. The slices are browned but not quite cooked all the way through. Then we drain on paper towels. After a minute we put these on an aluminum-foil coated cookie sheet in the oven. We add a little more olive oil, about a tablespoon, to the pan and continue with six more slices of eggplant. When all of them are done, we cook in the oven for a few minutes until tender, removing the earlier browned ones to start.